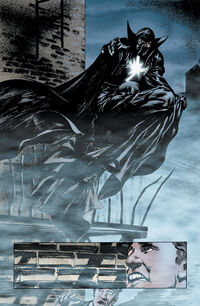 Confessor is a superhero living in Astro City created by Kurt Busiek, Brent Anderson, and Alex Ross. He first appeared in Image Comics' Homage Studios publication Astro City (Volume 2) #4 in 1996. There have been two different versions of the character, one taking over directly after the other. The original Confessor was Jeremiah Parrish, a priest turned vampire who sought salvation through heroic deeds. Brian Kinney, previously known as the sidekick "Altar Boy" replaced him in Astro City (Volume 2) #9 in 1997.
Characters
Edit
Original (1996)
Edit
Main article: Confessor (Jeremiah Parrish)
Successor (1997-Present)
Edit
Main article: Confessor (Brian Kinney)
External links
Edit
Ad blocker interference detected!
Wikia is a free-to-use site that makes money from advertising. We have a modified experience for viewers using ad blockers

Wikia is not accessible if you've made further modifications. Remove the custom ad blocker rule(s) and the page will load as expected.